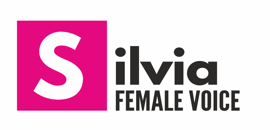 Silvia Mapelli, the female voice
I starred in many theatrical plays and I took part at some TV shows.
I worked for several years as an advertising graphic, but 10 years ago I discovered the dubbing that allowed me to turn my passion for acting into a work.
With many years of experience, I record for corporate films, e-learning courses, narrated videos, on hold services and games.
My voice is particularly adaptable to any recording style. It can be: harmonious, clear, confident, gentle, soothing, calm, bright and cheerful, educational and corporate.
You can listen my voice in the demos on this page and you ask me for a personal free recording
-
here
-
WACHT THE VIDEO WITH HER VOICE ON