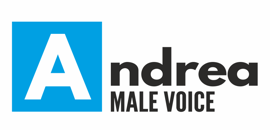 Andrea de Nisco, the male voice
I started to approach the dubbing thanks to my passion for the theater: a place where I acted, wrote theatrical works and in which I still do the director for some local theatre companies.
I have always worked with my voice both on the radio and on the television. Nowadays, I am one of the most recognizable Italian voices because of the dubbing of TV programs, films, cartoons, games and a lot of institutional videos for companies. Thanks to over 30 years of experience
, my voice can be both bright, youthful, baritones, energetic, funny and with a dash of madness or formal.
F
or some years I have been teaching, as a vocal coach, at professional institutes and universities.
You can listen my voice in the demos on this page and you can ask me for a personal free recording
-
here
-
WACHT SOME VIDEOS WITH HIS VOICE ON
Would you like to get a quote or to receive a personalized demo?
You
c
an ask for that using
the appropriate page.